What is Wood Veneer SPC Flooring (WSPC Vinyl Flooring) ?
Who doesn't like classic wood pavement? Wood is still one of the most used flooring materials also thanks to its style, which gives warmth and personality to spaces.
Wood pavement sure is gorgeous, but it's also an investment that requires high maintenance and it is not always suitable for every room. However, its grain is so beautiful and recognizable that, thanks to digital print technology getting more and more accurate and realistic, it has been reproduced on many types of surfaces to make it more accessible, functional and eco-friendly.
If you are searching for an alternative to real wood parquet, SPC vinyl flooring has proved to be a really valid one, providing stability, resistance and durability at lower costs. The technology has great features both from a quality and an aesthetic point of view.
Now there is a new floor, which is an upgraded version of SPC floor——WSPC flooring. WSPC Flooring is a new innovative environmental flooring. It's made of pure natural solid wood veneer and 100% virgin high-density SPC. It's super strong and easy for install. It's just click-down when to install, no need for glue at all. Which is shorten installation time and brings users convenience.
Innovated Hybrid flooring, with real wood texture and feeling, warm touch, click system for easy installation, attached acoustical underlayment.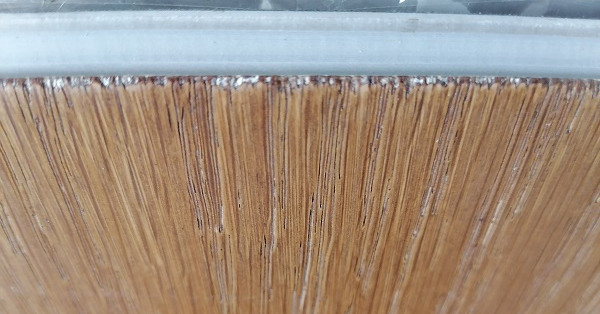 SPC and MSPC(Wood Veneer SPC flooring)

The main difference between SPC and Wood Veneer SPC is that WSPC has a real wood layer in place of the decorative vinyl film, giving the tile a perfectly realistic look.
WSPC Flooring- The top veneer is real wood, with SPC base Flooring, SPC Flooring is made up of a blend PVC and natural stone powder, making the product extremely stable and water resistant. It is can be used anywhere, but they are especially ideal for rooms like kitchens, bathrooms, and basements. From accidental spills to pet messes, our worry-free vinyl plank options keep your flooring protected from moisture.
Different from regular SPC vinyl flooring, The top veneer is real wood, such as Oak, Marple, Ash, Walnut, Birch or any other real wood.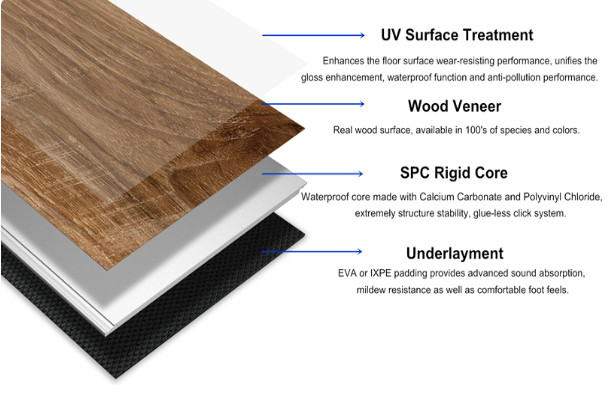 The main difference between
SPC
and Wood Veneer SPC is that WSPC has a real wood layer in place of the decorative vinyl film, giving the tile a perfectly realistic look.
WSPC is not to be confused with WPC, which is another type of engineered vinyl tile with a core made of a wood plastic composite, which is more comfortable but less resistant.
The advantage on a visual level is that the tiles made with real wood veneer have no pattern repetition and are different from one another, therefore they can recreate the original surface of wood pavements with their characteristic grain, maintaining the impact and water resistance of SPC flooring.
Water-Resistant
One of the biggest benefits of
SPC flooring
option is that it is 100% water-resistant. The resin in the SPC core makes it water-resistant, allowing SPC a good flooring choice for kitchens, bathrooms, laundry rooms, and even restaurants. Moreover, it is also anti-slip. Have kids or elderly living in your home? Install SPC in your home.
Easy to Maintain
Possessing the same properties as regular vinyl flooring, cleaning SPC flooring is easy. Regular sweeping and mopping will keep it looking new.
Scratch and Impact-Resistant
The strong SPC wear layer and the core of the flooring will protect it from scratches and dents.
Range of Options
Below the anti-fade UV coating, and a transparent wear-resistant layer is a printed decorative layer. This printed layer comes in a variety of styles, colors, and textures. The realistic print that imitates the look of wood, stones, or cement surfaces will fit any of your design ideas.
| | | |
| --- | --- | --- |
| Advantages | Wood | Standard Engineered Wood |
| Real wood veneer with natural lookingGood foot sense | √ | √ |
| | √ | √ |
| Can be wet mopped=easy-to-clean | √ | × |
| Stable to high temperature and humidity variations | √ | × |
| | √ | × |
| lmpact Resistant & indentation | √ | × |
| | √ | × |
| | √ | × |