Vinyl flooring VS laminate flooring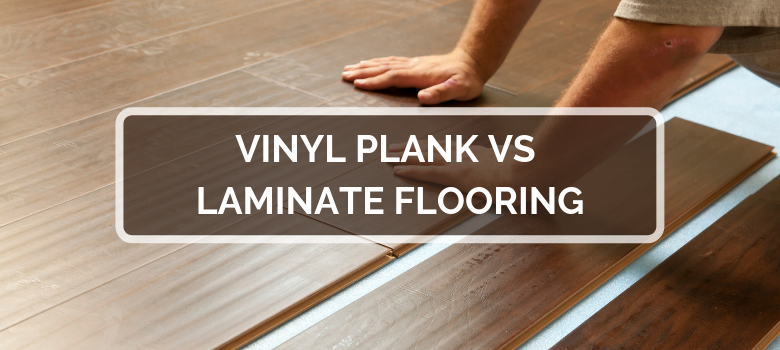 When you want a durable, economical, attractive floor covering for your home that you can install by yourself, you may find yourself gravitating toward either vinyl flooring or laminate flooring. Both floors qualify on those key points. But between the two, which flooring is the better choice?
Luxury vinyl flooring
has come a long way from traditional vinyl. Popular among commercial contractors and designers for not only for its extreme durability but for its beauty, it is fast becoming another great alternative to hardwood flooring.Both present a very realistic representation of natural hardwood flooring and cost significantly less than hardwood.
Homeowners looking for an affordable option for hardwood flooring may evaluate the pros and cons of Vinyl Plank vs Laminate flooring. Both promise to be durable, affordable, and easier to maintain than hardwoods,When choosing new flooring, it's important to get the best bang for your buck. From ease of installation to care and maintenance for the long term.
Laminate flooring allows for deep, realistic three-dimensional embossing on its surfaces, with accurate images of the material being portrayed—wood, ceramic, or stone.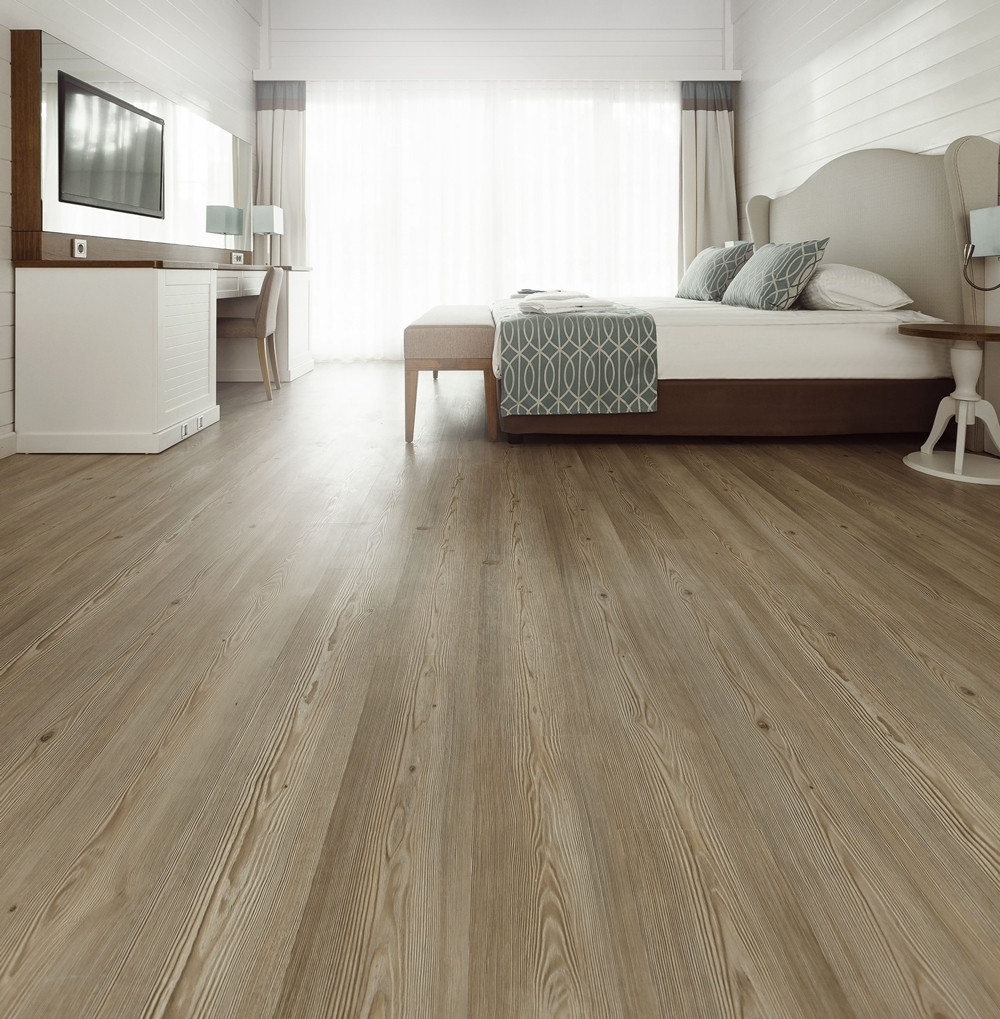 Many types of vinyl flooring can look similarly realistic, especially luxury vinyl plank flooring. Thicker solid core vinyl flooring will look more like wood since deeper embossing is possible.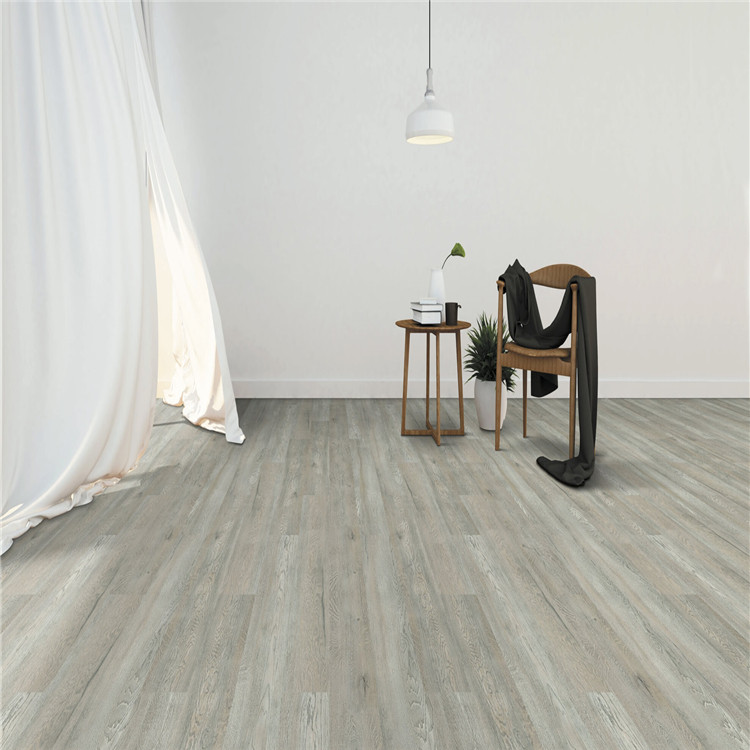 While laminate flooring and luxury vinyl flooring are generally comparable in appearance, laminate flooring generally will more closely mimic hand-scraped hardwood. However, this advantage is gradually narrowing as luxury vinyl flooring improves in quality.
Consumers often turn to vinyl plank or laminate flooring to get the look of hardwoods without the risk of scratches, dings, and other flaws that can be time-consuming (and expensive) to repair. One of the primary benefits touted by both vinyl plank and laminate flooring is durability.
Vinyl plank (LVP) holds up well under pressure. Unlike hardwoods, it isn't prone to scratching from animal claws or active children running through the house.Vinyl flooring is a tough flooring material that will stand up to high traffic demands.
Laminate flooring, like vinyl plank, is also extremely durable and is a good choice for homes with children and pets. It is extremely resistant to damage and will not have to be refinished over time like traditional hardwoods.
Although Laminate flooring is durable and low-maintenance, however, laminate flooring's many layers may eventually delaminate over time or if it is exposed to water for too long. Once laminate's top wear layer is scratched, it cannot be repaired.
Is Laminate or Vinyl Better for Dogs & Cats?
While both types of flooring can withstand daily use, kids, pets, and heavy traffic.SPC Vinyl flooring is superior. Although scratches and chips can occur over time, its high resistance to fading and overall durability makes it the top choice for anyone looking for flooring that can last for years to come.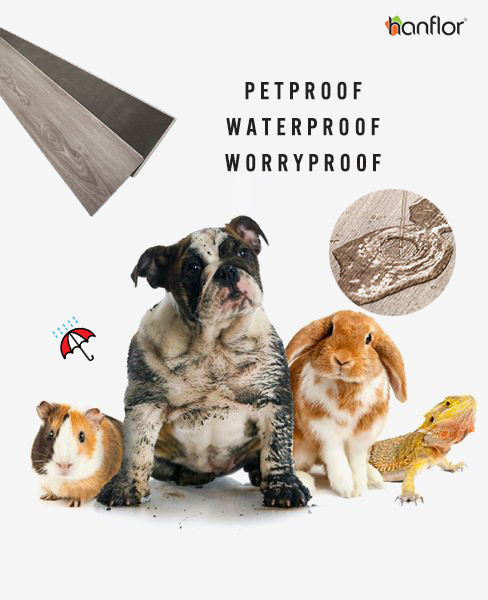 Laminate flooring: Virtually all laminate flooring uses a fiberboard core. Because this core is a wood product, it will soften and swell if it is exposed to water. The fiberboard core will not resume its original dimensions after it has dried. Additionally, the wear and design layers sometimes peel away after the core has become waterlogged. Severely water-damaged laminate flooring usually needs to be replaced; it cannot be fixed.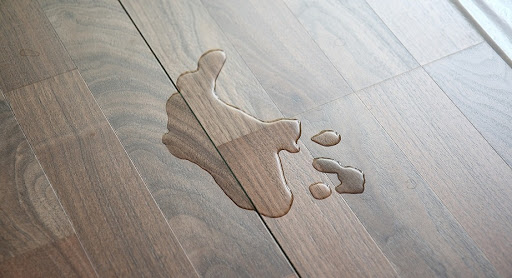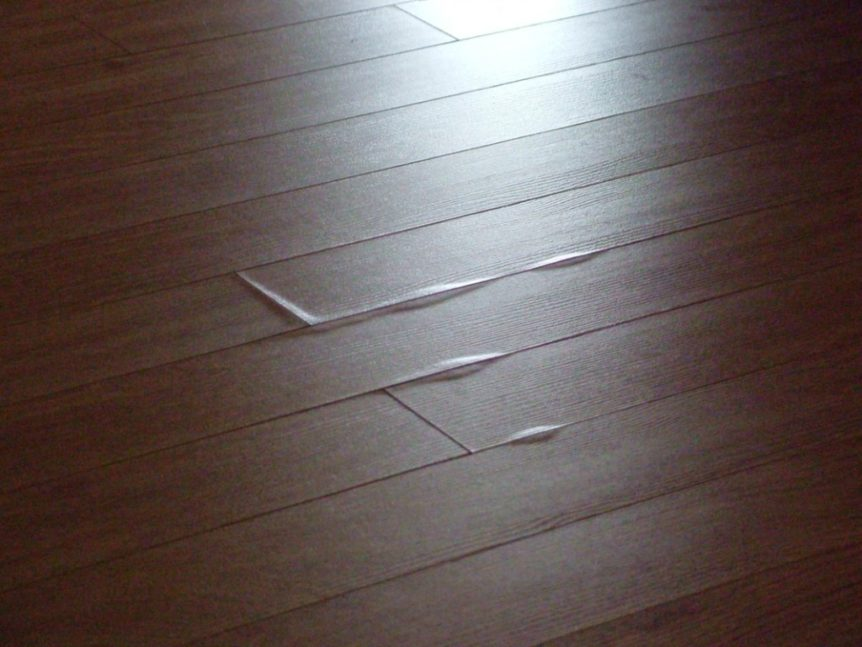 Properly installed laminate flooring, with tight seams and good baseboards or moldings, can tolerate pooled water, but only a short period of time. For family bathrooms or other areas where standing water is likely, laminate flooring is a poor choice. If you can reasonably dedicate yourself to cleaning up occasional spills and puddles immediately, then laminate flooring may be used in areas of low moisture.
Vinyl flooring: Older forms of vinyl flooring may have a fabric or felt backing that is not waterproof. But newer iterations of vinyl flooring are made of 100-percent polymer materials. Luxury vinyl flooring can be fully immersed in water for long periods, dried out then reused, completely unaffected.
Vinyl flooring may be installed anywhere within the home. it can be installed in bathrooms, kitchens, or other areas where there's moisture without the worry of warping or buckling. It is completely waterproof and will not succumb to damage, provided you have installed it correctly.

The nod here goes to vinyl flooring. All types of vinyl flooring are not just water-resistant but fully waterproof. Sheet vinyl, vinyl tile, and luxury vinyl flooring are usually made with materials that are 100-percent waterproof. In full bathrooms and damp locations such as basements, vinyl flooring materials excel over laminate materials. Sheet vinyl that comes in 12-foot wide rolls often requires no seaming, making it an excellent choice for a truly waterproof floor.
Many homeowners choose to tackle flooring installation themselves in order to save hundreds or even thousands of dollars in installation costs. With the right tools and a little know-how, homeowners can install vinyl plank flooring and laminate, but which is easiest?
Vinyl flooring: Luxury vinyl planks use a click-and-lock method of installation. Because vinyl is a softer material, you can cut and score pieces by simply using a utility knife.A score mark is first made, then the plank is bent back on itself and a second cut is made from the rear.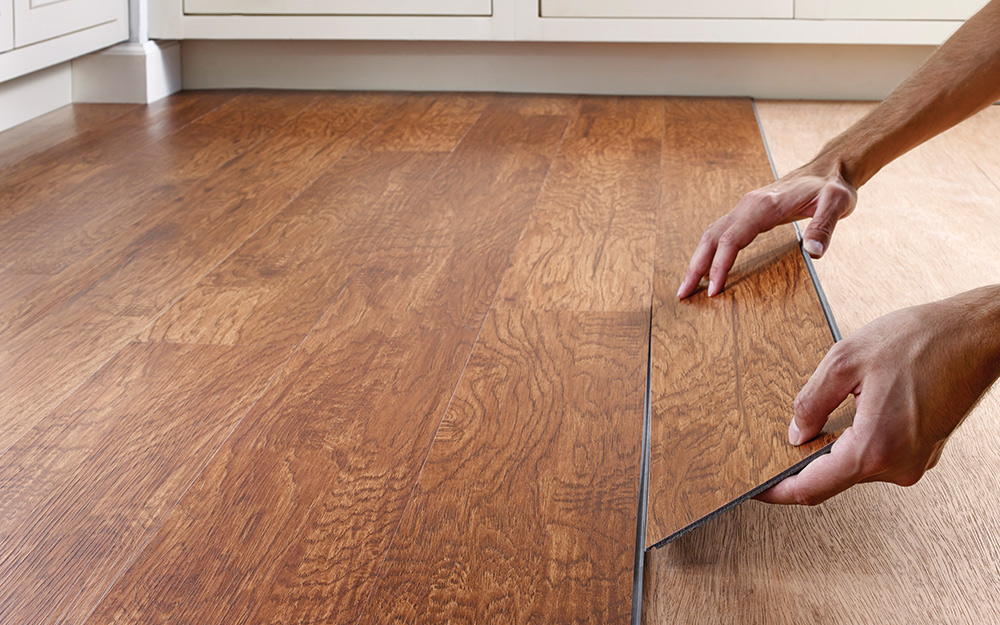 Laminate flooring:Like vinyl plank, homeowners that like to tackle DIY projects can install laminate flooring. However, the installation of this flooring requires more tools, including a hand saw or circular saw to cut each piece. If you are going to install the laminate below-grade, you will also need a vapor barrier to protect against moisture.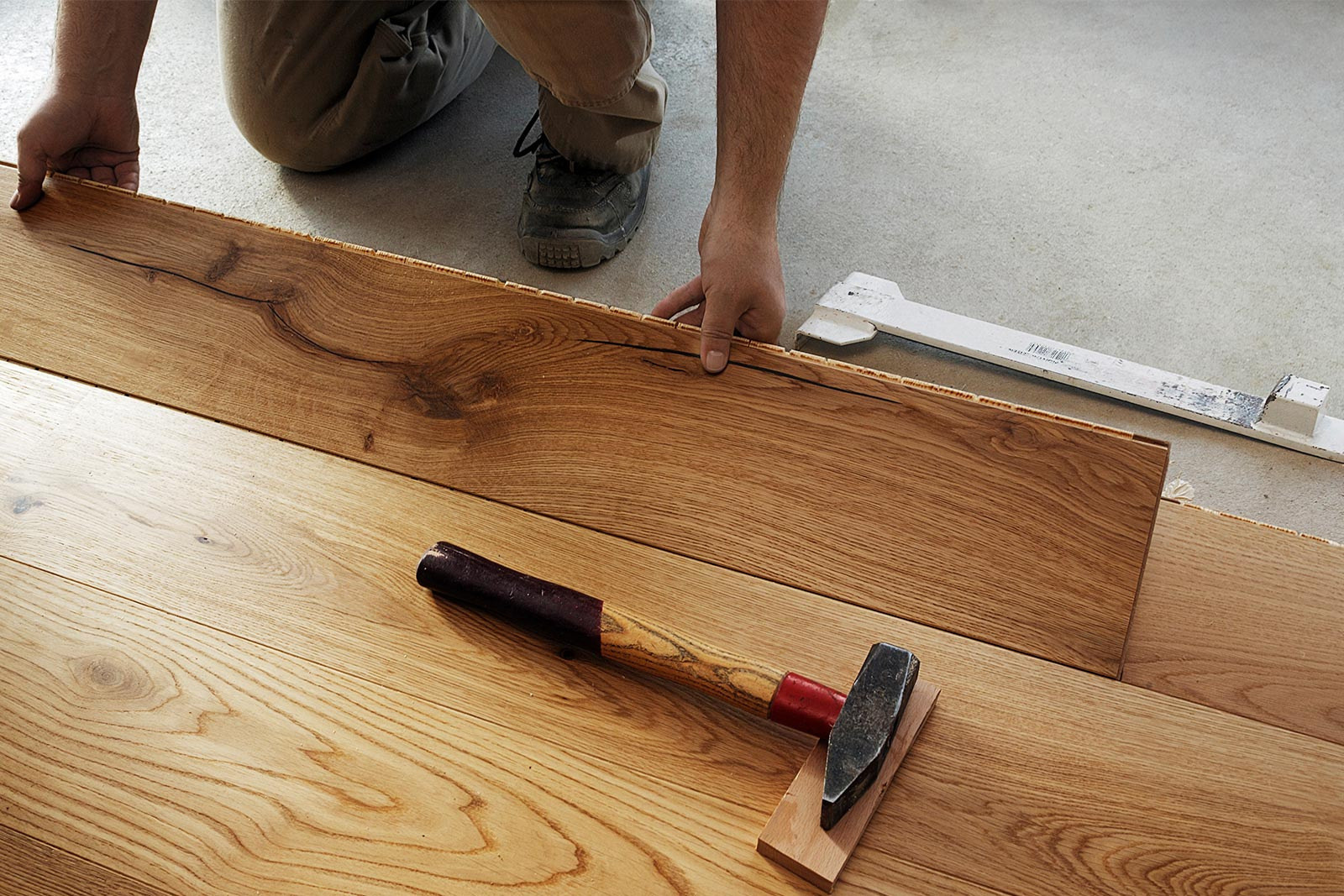 #Tips For Cleaning Floors#
Many consumers opt for vinyl or laminate flooring because care and maintenance is so simple. After all, they don't have to tackle refinishing (which is usually best left to the professionals) or take special precautions when cleaning the floor the way they would with hardwoods or other types of flooring.
Laminate flooring: Laminate flooring is easy to clean and maintain, but there are a few precautions to take to avoid damaging these floors.Laminate flooring is best cleaned first with dry methods, such as with a dry mop or broom. You should never use a wet mop on laminate. Only use soap-free cleansers. In addition, always use products designed for laminate flooring. You can spray these on the surface and wipe them off with a cloth or dry mop. Note: Steam mops are generally NOT safe for use on laminate, with few exceptions.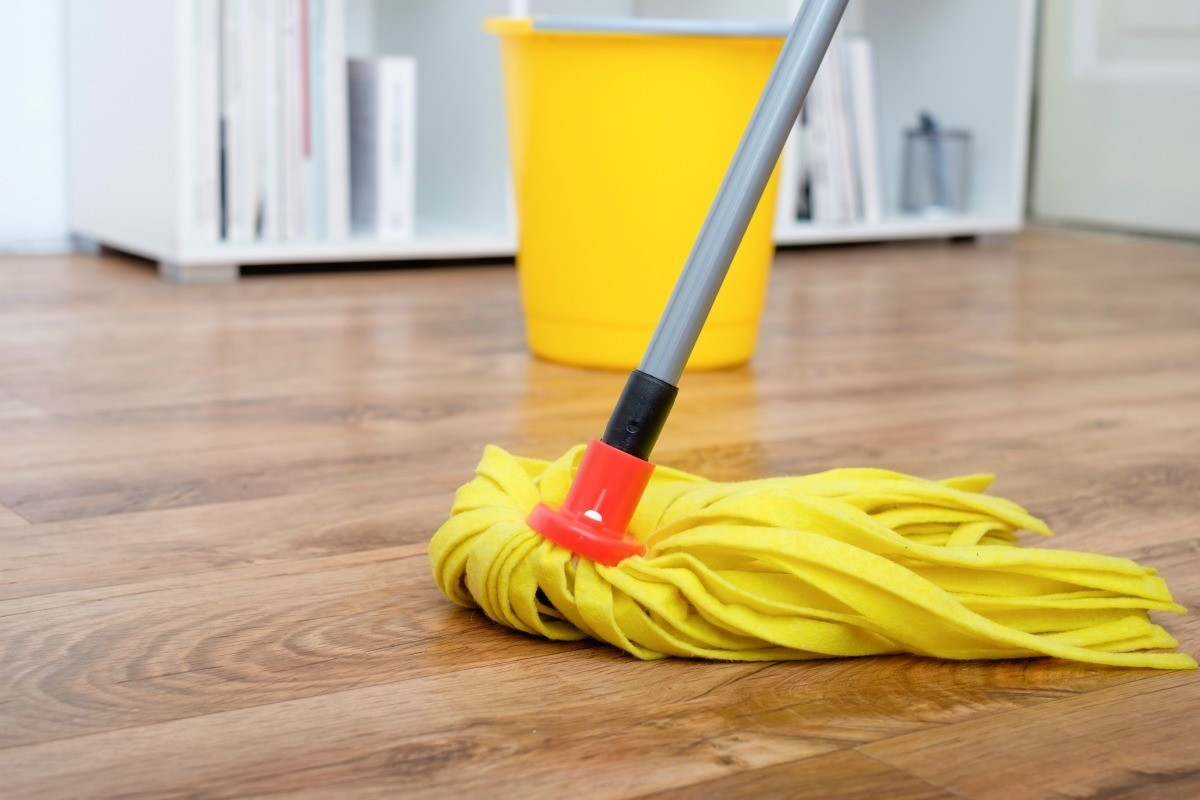 You can tackle tough spots like oil, paint, markers, or inks using acetone or nail polish remover. These are generally safe for use on laminate.
Vinyl flooring: Vinyl plank flooring is one of the easiest floors to clean .Harsh cleansers aren't needed to clean vinyl planks. A mild cleanser will sufficiently clean up even the biggest messes. A traditional mop and/or a dust mop (but not a steam mop) can be used to effectively clean vinyl flooring.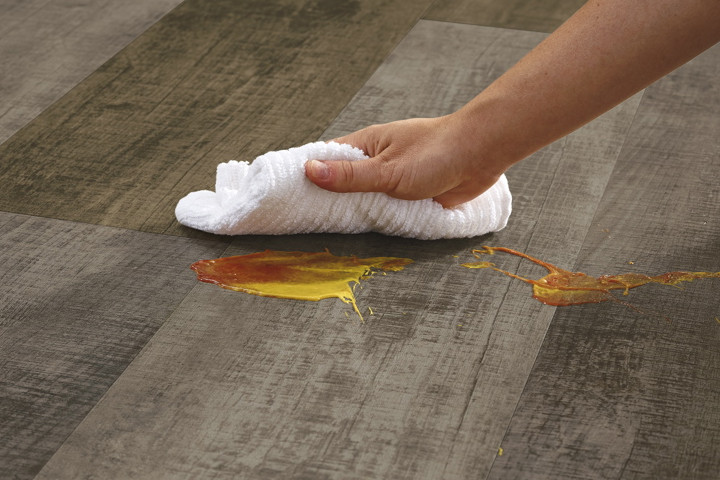 Vinyl flooring holds an edge here. While both laminate flooring and vinyl flooring are easy to keep clean, only vinyl flooring allows the entire span of cleaning methods, from sweeping with a dry broom to wet mopping.
#Tips for Shining Floors#
Laminate flooring does not require waxing. It generally retains its beauty and shine over time. However, you can restore floors that look dull using products specific to laminate. You can also repair scratches and chips using specialty markers, putties, and other products.
Vinyl floors also don't require waxing, as using wax will result in a buildup that requires stripping. While regular cleaning will help vinyl flooring retain its shine, you can easily restore floors that appear dull using a polish or product designed for no-wax flooring.
Although both types of flooring are easy to care for, vinyl plank has the edge when it comes to care and maintenance. You don't need specialty cleaners. You can also wet-mop the floor. That makes it the easiest to care for compared to laminate.
Laminate flooring: Laminate flooring is pressure-laminated with several layers, the top being a clear aluminum oxide layer that is superior for stain resistance.
Vinyl flooring: Quality vinyl flooring is coated with a transparent urethane layer that provides excellent stain-resistance.
Both modern vinyl flooring and laminate flooring do an excellent job of resisting stains, thanks to specially designed wear layers.
Laminate flooring: Laminate flooring ranges from about $1 per square foot for 7 mm-thick planks to about $5 per square foot for 12 mm-thick planks.
Vinyl flooring: Vinyl flooring can cost as little as $1 per square foot for thin, glue-down vinyl flooring. Costs rise to around $5 per square foot for luxury vinyl planks, and premium brands will cost more.
Laminate flooring and luxury vinyl flooring are roughly comparable in price.
Laminate flooring: Laminate flooring warranties typically range from 10 to 25 years, but this is dependent on maintaining a rigorous maintenance schedule.
Vinyl flooring: Warranties on luxury vinyl flooring often range up to 20 years.
Both types of flooring have similar lifespans if they are kept clean.
Laminate flooring: Some laminate flooring manufacturers offer products that qualify for LEED MR4 (Recycled Content) status. But laminate flooring still uses a plastic surface layer, and the melamine resins used in the creation of the core level are by no means green materials since they may off-gas chemicals.
Vinyl flooring: Vinyl flooring has improved its green stature in recent years.At hanflor, our goal has always been to produce the best looking and performing luxury vinyl floors with the lowest possible impact on the environment. From the manufacturing of our products to our adhesives, our floors have many environmentally friendly properties and certifications to address your home and project needs.
Our luxury vinyl floors are composed of virgin vinyl, allowing us to consistently measure the safety and performance of our products because we know the exact makeup of our materials. Our products are manufactured in factories certified to the ISO 14001 Environmental Standard and ISO 9001 Quality Standard.
Phthalates are a type of compound used to soften vinyl, increase its performance and boost its durability. All hanflor products are ortho-phthalate free, so you can rest assured that there are no harmful phthalates in our luxury vinyl.
Low in Volatile Organic Compounds
Volatile Organic Compounds (or VOCs) are organic compounds that easily become vapors or gases – some of which may be hazardous to human health in high enough concentrations. Both our flooring and adhesives meet the strict indoor air quality standards of FloorScore®, carrying a low Volatile Organic Compounds (VOC) FloorScore® certification and meet the "for use with Children and Schools" standard (LEED Credit 4.3 and CAL 01350). Our adhesives are solvent-free and have low VOC emissions. In addition, our adhesive meets the Cradle to Cradle Certified™ Product Standard.
Laminate flooring: Premium laminate flooring can lend extra resale value to a home, as long as it is relatively new and in good condition. With a little bit of wear, however, laminates can begin to look cheap. This is not a flooring that has the same kind of prestige as genuine hardwood.
Vinyl flooring: Major brand luxury vinyl plank flooring will bring decent resale value to a home. Inferior quality vinyl flooring will often be seen by buyers as a project-in-waiting once the house has closed sale.
Advantage: Quality laminate flooring and vinyl flooring lend a comparable amount of value to a home. Neither brings the high-value prestige of solid hardwood, engineered hardwood, or designer ceramic tile or natural stone floors.
Hanflor SPC flooring is constructed by UV coating, Wear layer, SPC print layer,SPC core, Balanced layer . For the backing, EVA, IXPE foam or Cork wood as option all available.Its advantages including good dimension stability, high peel strength, little noise when walking on, no warping, no distortion, 100% waterproof, heat and sound insulation, eco-friendly rigid floor, no harmful emission.
1.Economical and practical.
Due to new upgraded formula, production cost comes down as well, which makes SPC more affordable.
2.Incredibly stable quality.
This is the biggest advantage compared with regular vinyl floor. With the new upgraded formula, SPC is more rigid and stable, which enables it can be installed everywhere even suitable for under floor heating.
3.Heat-and-cold resistance.
SPC flooring can bear the temperature difference from -75℃ to 80℃. The dimensional stability is brilliant.
hanflor SPC flooring VS laminate flooring